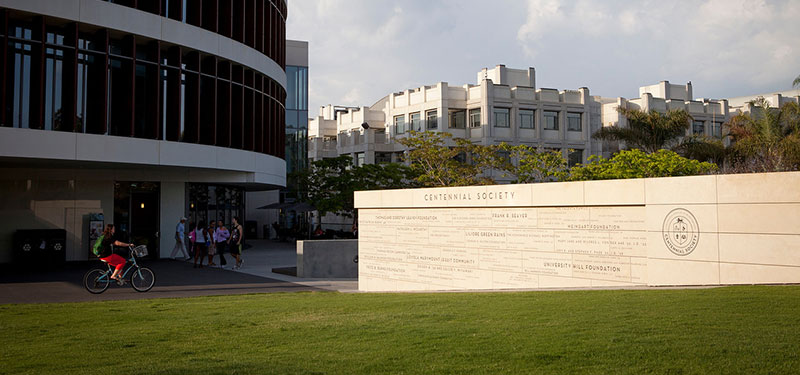 Founded in 2011, the Centennial Society is a prestigious group of individuals who strengthen and shape Loyola Marymount University. The Centennial Society honors the generosity of individuals, couples, families and organizations for their unwavering dedication to LMU through substantial cumulative lifetime giving. The threshold for induction into the Centennial Society is the provision of cash or commitments totaling $1 million or more.
Our Centennial Wall Garden stands outside the William H. Hannon Library as a visible recognition of society members, commemorating their legacy. As the Centennial Society has grown, the wall has expanded to create a lasting monument to those whose vision, dedication, and generosity enables LMU to pursue extraordinary achievements, which positively impacts our society.
Centennial Society Membership Benefits
Bi-Annual Celebration
The Centennial Society is celebrated at a bi-annual event to commemorate the impact benefactors have had on the university. Donors whose giving reaches the $1 million threshold will be welcomed into the Centennial Society by the university president and presented with a Centennial Society commemorative lapel pin.
Special Events and VIP Access
Centennial Society members will be invited to campus-wide donor events. Also, on occasion, Loyola Marymount University is granted access to special events such as theater productions, private tours, and book signings. When these¬ opportunities arise, members of the Centennial Society will be given first consideration.
The Centennial Wall
Donors will be recognized on the Centennial Wall centrally located on campus in front of the William H. Hannon Library.
Hosted Parking
As a member of the Centennial Society, the university will host your parking. While visiting campus, you will be able to park your vehicle in any unrestricted space (i.e. not a handicapped space unless you have a handicapped placard, not in a red zone, etc.). This a virtual system; therefore, there will be no physical parking passes. Please complete this form with information about the vehicles you will drive when parking on campus. If you acquire a new vehicle, you will need to resubmit the form.